OUR PROCESSES
We are constantly on a path of continuous improvement
Topman & Dana has adopted TQM (Total Quality Management). We have embarked on an ongoing pursuit of continuous improvement through the use of emerging process improvement tools, including Six Sigma. We consistently apply value engineering to lower the cost of execution, to streamline processes, and to improve efficiencies.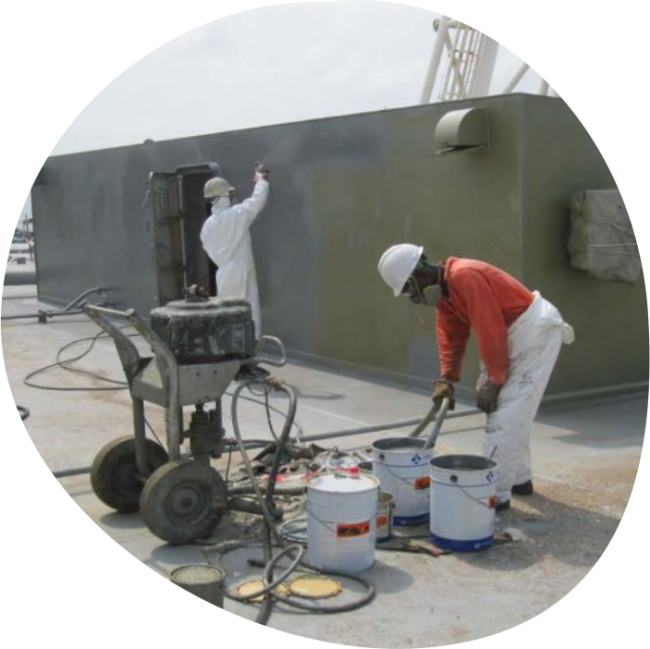 Offshore & Onshore Blasting And Painting
Topman & Dana bring together diverse services of blasting and Painting in the industry for the purpose of expanding corrosion monitoring in the Oil & Gas Industry. Our surface preparation with Ultra-High-Pressure Hydro and grit blasting is ideal for Construction Companies and the Oil & Gas Industry, amongst other surface preparation methods.
Core Specialty & Application Areas
Corrosion management on offshore installation facilities.
Corrosion management on onshore installation facilities.
Corrosion management on steel surface structures
Fabrication Services
Topman & Dana Services Limited offers complete services from conceptual design, drawings, site surveys, fabrication, installation, to qualification of welders. We utilize a full range of specialized equipment and fully trained personnel to ensure that all fabrication works are produced to the highest applicable standards. Topman & Dana carry out her works using ABS and ASME standards. Our company provides cutting edge technology at a competitive price. Also, we carry out fabrication of pipe works in a range of materials, from a small diameter to complex process systems.
Core Specialization and Application Area
Carbon steel welding / Qualification of Welders – ABS Certified
Argon Welding / Qualification of Welders – ABS Certified
Stainless Steel Welding / Qualification of Welders – ABS Certified
Steel erection – All Types
Site Surveys and Evaluation
Fabrication and Assembly Installation
Process Pipe Work in Stainless Steel